Photo by Ernest Ojeh on Unsplash
Top Japanese, Indian cars among laggards in EV global ranking: report
America's Tesla and China's BYD were the global leaders in zero-emission vehicles.
Five Japanese car companies like Toyota and Honda, as well as India's Tata Motors, were the slowest to transition to electric vehicles (EV) among the world's largest automakers, according to a new report published by the International Council on Clean Transportation (ICCT).
ICCT's Global Automaker Rating report showed Toyota, Honda, Nissan, Mazda and Tata were ranked as the laggards in the global transition to zero-emission vehicles, signalling a need to catch up to competitors.
Suzuki was at the bottom of ICCT's ranking, which analysed the world's top 20 car manufacturers in 2022.
Tesla topped the list with the highest scores in all three categories – market dominance, technology performance and strategic vision.
In second place was its Chinese rival, BYD, after the Shenzhen-based firm ceased its production of combustion engine vehicles in March 2022 to solely focus on eclectic cars.
In the transitioners category or those making progress, German carmakers BMW and Volkswagen trailed behind the two top leaders as they both scored high in technology performance but their market shares are relatively low.
Other firms that are in the middle of the pack include General Motors and Ford from the US, as well as European car companies Stellantis and Mercedes-Benz.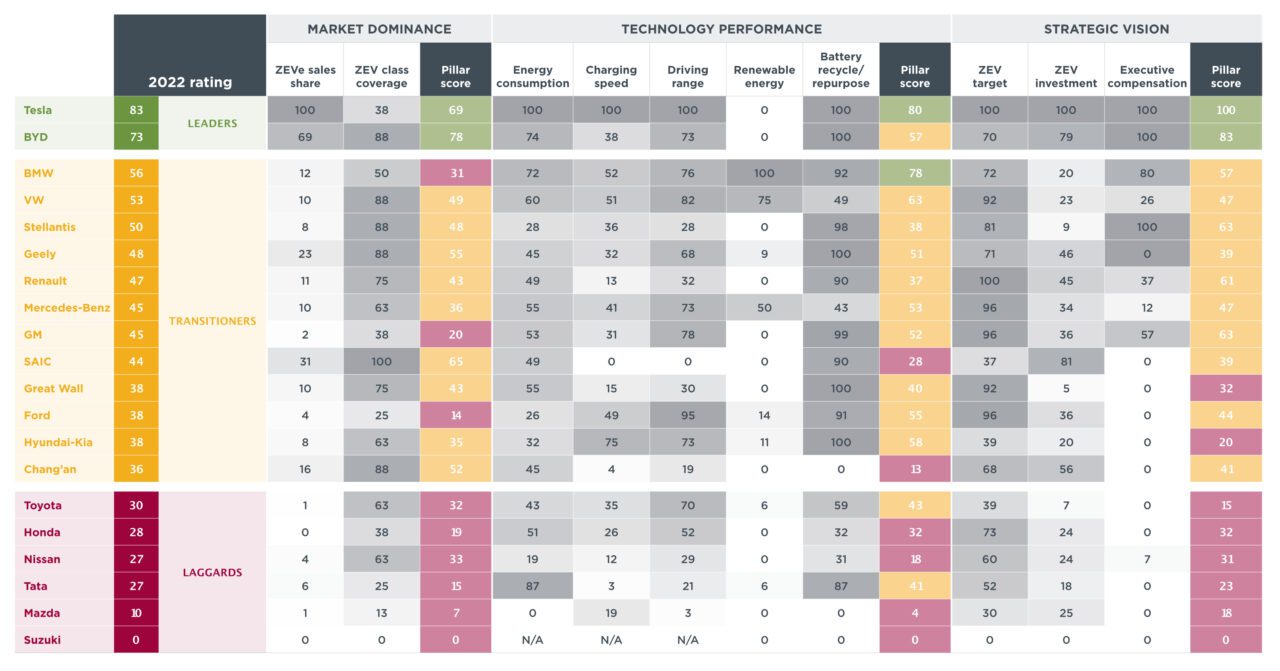 ICCT said the majority of the companies scored well on at least one metric as they approach the EV transition in different approaches given its complex nature.
"There is a long way to go in sustainable vehicle manufacturing," The report said. "Although some automakers show stronger progress on battery recycling and repurposing than others, all need to expand in this area for their future supply chains to be sustainable."