Photo by Elliot Andrews on Unsplash
Vietnam's EV market seen growing 25.8% annually through 2032 as local production gains traction: Fitch
Low incomes and a lack of incentives are seen weighing down the sector.
Fitch Solutions expects Vietnam's electric car market to grow by 25.8% on average each year over the next 10 years, buoyed by ramped up local production.
Annual sales of passenger electric vehicles (EVs) in the country is estimated to reach as high as 64,497 units by 2032 from just the 8,400 units that transacted in 2022, Fitch said in a note earlier this month.
The projected sales could see Vietnam's EV penetration rate skyrocket to 13.6% by 2030 from just 2.9% last year, with a higher adoption rate in the motorcycle segment given its popularity in the country.
By 2032, it said the country will see its passenger EV fleet rise to 390,000 units from less than 27,00 units this year, which will represent about 3% of its entire car fleet that year, from under 1% in 2022.
"While we expect Vietnam's passenger electric vehicle (EV) adoption will be bogged down by low incomes and a lack of incentives, the local production of VinFast, Wuling HongGuang, Skoda and Hyundai-branded EVs over our 2023-2032 forecast period will drive strong growth in the market," Fitch said.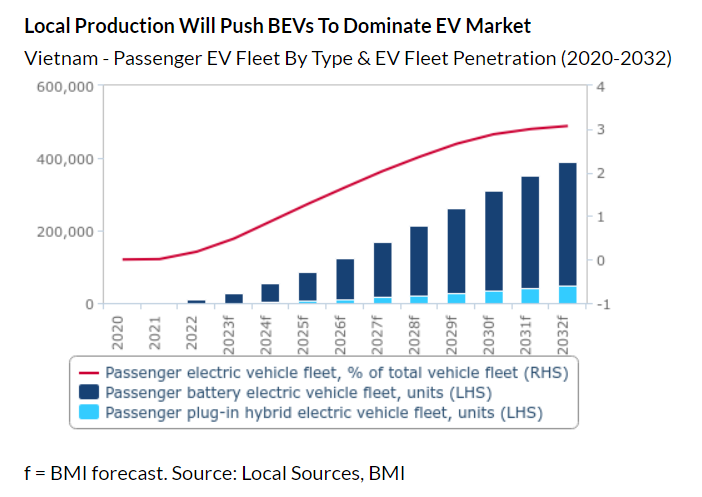 VinFast, a unit of the country's biggest conglomerate Vingroup, led the race with a market share of over 50% in 2022, surpassing China's BYD.
While local production drives most of the growth, Fitch said growth in the market will also be supported by increased supply of affordable EVs from mainland China and the rest of Southeast Asia.
"We anticipate Vietnam's EV adoption to gain more traction in the two-wheeled segment due to the high motorcycle ownership rates in the country," it added.
Battery leasing business models will also give a boost not just to VinFast but also to the broader Vietnamese EV market, as the scheme allows consumers to lease batteries when they buy a new BEV to cut costs.