Photo by Vishnu Mohanan on Unsplash
Rebound in demand, chip prices drive cautious recovery in Taiwanese tech sector
The country is seen benefiting immensely from AI investments.
Home to some of the world's biggest semiconductor firms, Taiwan is starting to see early signs of recovery in its tech sector as demand for electronics picks up and global chip prices begin to stabilise.
Taiwan's tech sector is expected to record a cautious, cyclical recovery for the second half of the year through 2024 according to a research note by Ma Tieying, senior economist at DBS.
DBS pointed to the softening slump of exports of Taiwan-made electronic components in July compared to the second quarter, largely driven by the recovering demand from China and Southeast Asia.
Factories also continue to trim their inventories with slower production, a move expected to lead to inventory digestion by the fourth quarter. On the price front, global chip prices are becoming more stable with a significant price recovery anticipated for 2024.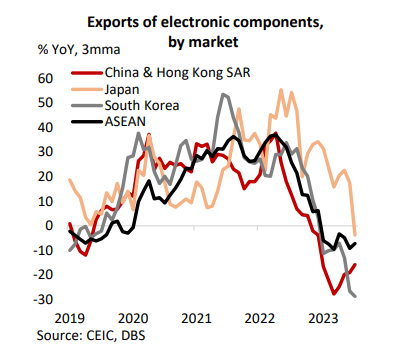 These signs of recovery, however, were not enough to boost business confidence in the sector.
"New capital spending (capex) remains constrained as capacity utilization, though improving, remains below the optimal levels," DBS said, adding that the revenue outlook for Taiwan's semiconductor industry "remains cautious in the near term."
It said chip giant Taiwan Semiconductor Manufacturing Co. (TSMC) adopted a "cautious stance" during its earnings call in July, with its capex expected to stay towards the lower end of its estimated US$32b to US$36b spending for 2023.
Nonetheless, DBS said Taiwan's tech sector remains well-positioned to benefit from emerging growth drivers such as improving inventory levels of computers and smartphones.
The rapid rise in artificial intelligence (AI) investments also bode well for the country whose local foundries already dominate 90% of the global production of advanced logic chips under 10 nm.
"The adoption of ChatGPT is spurring investments in generative AI, driving heightened demand for high-performance GPUs and optimized semiconductor devices," it said.
A major downside risk to the country's anticipated recovery is the escalating chip war between US and China since their restrictive measures could drag further the global semiconductor trade.