Photo by Martin Geiger on Unsplash
Foreign car makers may see market share in China shrink on slow EV transition: study
Car manufacturers that are faster to adopt EVs will have an edge in the world's largest auto market.
Foreign carmakers may risk losing their share in China auto market as domestic brands like BYD are adopting electric vehicles (EVs) fast, according to a report by climate campaigning organization Greenpeace.
German automaker Volkswagen AG could see its market share in China get trimmed by 3 to 7 percentage points by 2030 from its current average market share of 17.2% in 2019-2021, the research showed.
American firm General Motors Co. is also forecasted to lose about 3 to 6 percentage points of its market share by the end of the decade, from an average of 11.7% in those three years.
"China is the world's biggest auto market, providing a strong incentive for leading automakers to electrify," Greenpeace said.
As fossil fuel-powered cars are poised to lose their appeal to Chinese consumers, the study expects Shenzhen-based carmaker BYD to increase its market share by up to 5 percentage points by 2030 mainly due to its early shift towards new energy vehicles.
Japanese carmakers Toyota and Honda, which accounted for 15% of China's total car sales in the three years ended 2021, could also lose 1 to 4 percentage points of their respective market shares by 2030.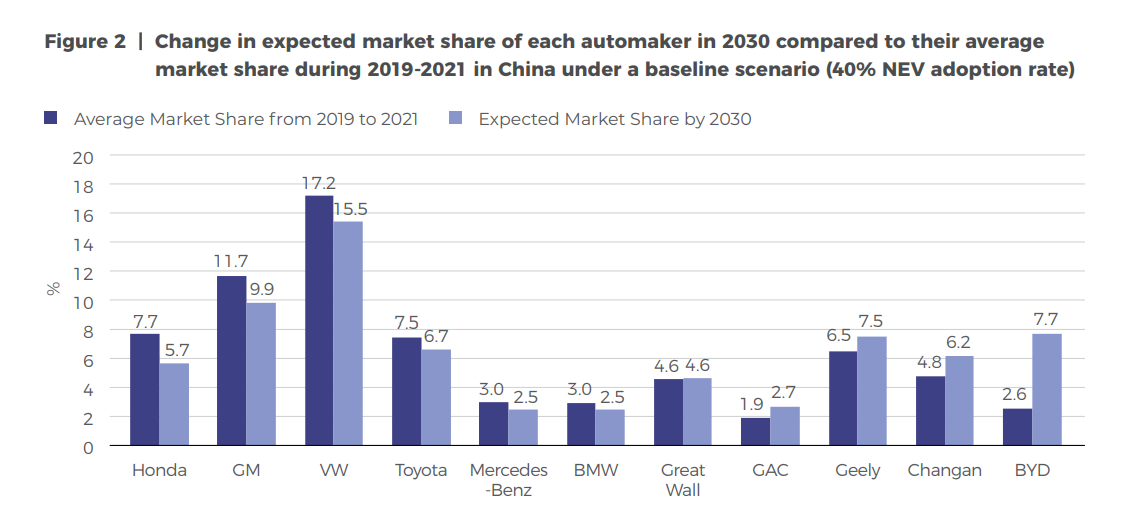 Greenpeace warned automakers that are slow to transition to EVs risk recording high levels of unsold fossil fuel-powered car inventory as China's market for combustion engine vehicles is projected to shrink significantly by 2030.
In its most conservative forecast, the organisation predicts General Motors to have the highest stranded production capacity of combustion engine vehicles with 1.78 million units, followed by Volkswagen with 1.42 million units.
"The results of this study show that most major automakers in China face business risks due to their slow transition to new energy vehicles. The phase-out of combustion engine vehicles is imminent," it added.