Photo by Louis Reed on Unsplash
Asian chip makers need to cut emissions as semiconductor industry's power consumption seen doubling by 2030: study
Greenpeace says suppliers of tech giants like Apple and Microsoft should set meaningful climate goals too.
Electricity consumed by the world's semiconductor manufacturing sector is expected to more than double its actual power usage in 2021 and reach 286 terawatt hours (TWh) by the end of this decade, according to a study by Greenpeace.
Greenpeace said the sector's 2030 estimated energy use would surpass all of the electricity used in Australia in 2021. Its heavy reliance on fossil fuel and lack of meaningful climate targets result in soaring greenhouse gas emissions.
The nonprofit noted that major companies, especially Asian chip makers Taiwan Semiconductor Manufacturing Company (TSMC) and Samsung, need to ramp up their energy transition from coal to renewable energy since any delay may exacerbate environmental, health, regulatory and financial risk.
"Both Samsung and TSMC consume more electricity than some entire countries, but they have largely escaped scrutiny in the climate debate despite their reliance on coal and other fossil fuels," said Xueying Wu, Greenpeace East Asia's global tech project lead. "TSMC and Samsung need to target 100% renewable energy worldwide by 2030, just as their clients Apple and Microsoft have done."
The power-hungry sector is estimated to emit 172 million metric tons of carbon dioxide (CO2) equivalent globally by 2030 under a "business as usual" scenario, or a 139 percent increase from the sector's actual emissions in 2021 at 72 million metric tons of carbon dioxide equivalent.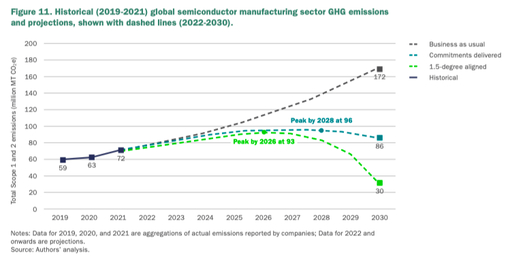 South Korea's Samsung Electronics is expected to emit 32 million tons of CO2 equivalent by 2030 alone and surpass Denmark's total emissions in 2021. Its electricity consumption is projected to hit 55 TWh in seven years – equivalent to all of the power used by Singapore two years ago.
Power consumption by Taiwan-based TSMC is also projected to skyrocket by 267% by 2030, which is equivalent to electricity used by 5.8 million or roughly a quarter of its country's population.
"Air pollution and emissions from the electronics supply chain are disproportionately concentrated in East Asia," Wu said. "TSMC and Samsung have the resources to invest in renewable energy and even to construct their own distributed wind and solar capacity."
Greenpeace said adopting renewables as the main power source can cut the semiconductor sector's total emissions by half.