Photo by Gunnar Ridderström on Unsplash
'Significant potential in renewable energy manufacturing awaits Southeast Asia'
The region should boost its production of solar PVs, e-motorcycles and batteries.
As decarbonization gains traction globally, there is immense potential in Southeast Asian nations to become viable global manufacturing hubs for renewable energy, according to a forum hosted by the Asian Development Bank (ADB).
The region should leverage its strengths on the production of solar photovoltaic (PV), electric motorcycles and batteries to help meet the growing demand for these renewable energy inputs and end-products, according to a presentation by Vaibhav Dua, a partner and leader of sustainability in Asia at McKinsey, during an ADB forum.
Citing a study from McKinsey & Co., the region has a $5t addressable market size for green businesses by 2030. Of which, there is an estimated $100b market for low carbon mobility and clean power sectors in Southeast Asia.
"Cooperation between an array of international and regional stakeholders is required to ensure that Southeast Asia secures its place as a global 'center of gravity' for renewable energy manufacturing, and to grow the overall aspiration for the region as a whole," the summary read.
Dua said production of key materials for solar PV, such as polysilicon, wafer, solar cells and solar modules, in the region already accounts for less than 10% of total production worldwide.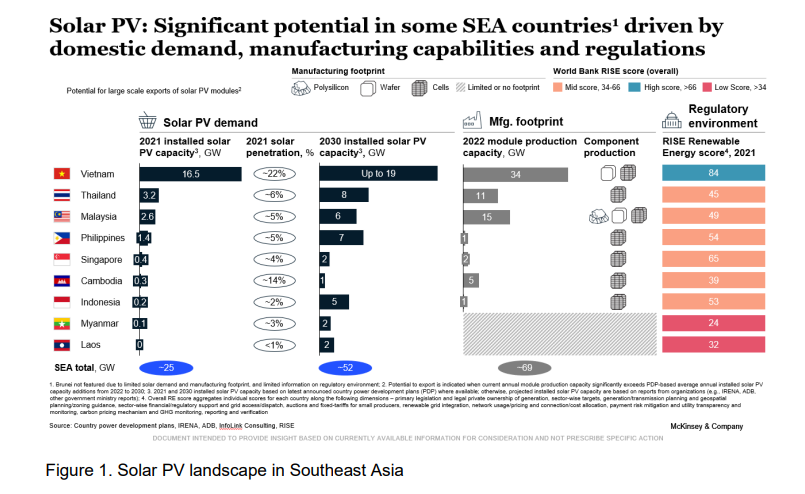 Growing the region's solar PV market requires investment in grid infrastructure, establishment of flexible storage to manage intermittency as well as promotion of local manufacturing and product demand.
In the e-motorcycle segment, the region makes up for 6% to 10% of global production with Vietnam and Indonesia being the largest markets. Dua said increasing its market share would require countries to build battery-swapping infrastructure and promote local manufacturing.
Resource-rich countries like Indonesia and the Philippines have significant potential in battery production since 25% of nickel reserves and 10% of cobalt reserves in the world can be found in these two archipelagos alone.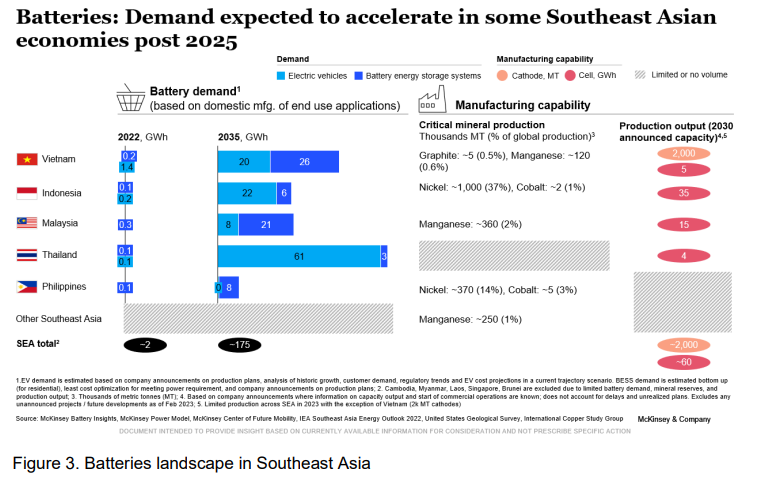 Despite having these critical raw materials, the region only accounts for less than 0.5% of global battery cell production and they are primarily from Vietnam and Indonesia.
Dua said the existing trend presents "both risks and early mover opportunities" for countries that choose to focus in this segment as battery demand is expected to skyrocket by the end of the decade.