Photo by Vishnu Mohanan on Unsplash
Singapore seen attracting semiconductor firms diversifying away from China: DBS
Analysts said the sweet spot is in integrated device manufacturers.
Singapore is well positioned to attract semiconductor firms diversifying their supply chains away from China, especially on high value-added segments, DBS Group Research said in a note.
The Lion City is seen as the preferred location for chip manufacturers seeking diversification due to its supportive regulations, favourable tax regime and its safe haven status, according to equity analysts Lee Keng Ling and Sachin Mittal at DBS.
Singapore should target higher value-added activities including front-end semiconductor wafer fabrication as well as equipment and tool manufacturing, especially on the integrated device manufacturers (IDMs).
"We are of the view that Singapore is well positioned to leverage on higher value adds, i.e., more advanced activities that are more capital intensive and relatively less labour intensive," they said. "The sweet spot, however, lies in IDMs, as its activities span across the value chain while its margins are largely comparable to that of the fabless firms."
While wages are higher compared to its neighbours in Asia, the analysts said the city-state has a skilled and highly productive labour force together with an established semiconductor ecosystem.
There are also pockets of opportunities in the back-end processes like higher end of outsourced semiconductor assembly and test services where the wider margin can offset high costs in labour.
Referred to as the China plus one strategy, companies are diversifying their operations and supply chains by expanding outside of China to reduce geopolitical and economic risks, mainly brought about by the heightened tensions between China and the US.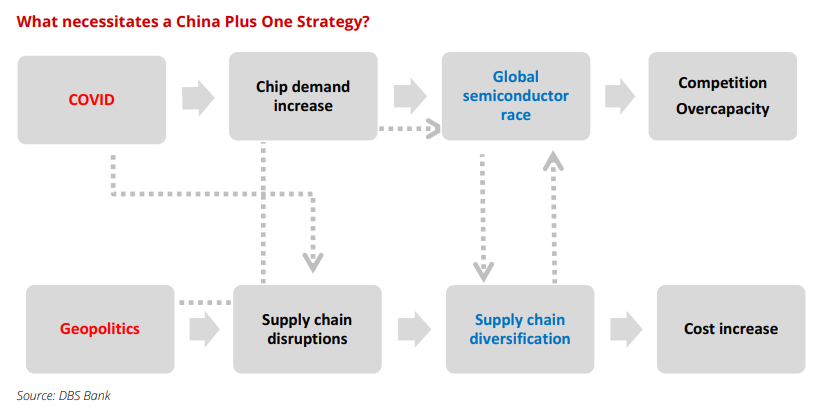 UMS Holdings, AEM Holdings and Grand Venture Technology stand to benefit the most among Singapore-based chip makers since their key production facilities are outside China.
Singapore's closest competitors in attracting these fleeing companies are Malaysia with its growing semiconductor industry and Thailand which already has a strong manufacturing base with cheap costs.
Across markets, the semiconductor industry is facing a gloomy outlook over the near term due to the ongoing chip glut, but the analysts believe its long-term prospects remain intact as AI, industrial automation, and autonomous driving gain traction.